Home Fire Sprinkler Incentives — Good News for Communities and Developers
NFPA 13D is a Life Safety System
The intent of NFPA 13D, the national installation standard for one- and two-family dwellings and manufactured homes, is to provide an affordable sprinkler system in homes while maintaining a high level of life safety.
The standard requires up to a maximum of 40 gpm, the water supply to accommodate one or two operating sprinklers for at least 10 minutes.  Water on the fire in its initial stage of development controls the fire early, giving residents the time to safely escape and the fire department time to respond. A typical home fire will be controlled and may even be extinguished by the time the fire department arrives.
Home fire sprinkler systems use CPVC (chloro-polyvinyl chloride) or PEX plastic piping. Special glue secures the CPVC pipe connections, reducing the problems of sweating copper joints or threading steel pipe.
NFPA 13D is referenced in many building and fire codes. It is intended to prevent injury and life loss. The standard requires at least 10 minutes of sprinkler water on the fire in its initial stage of development. That controls the fire early, giving residents the time to safely escape and the fire department time to respond. A typical home fire will be controlled and may even be extinguished by the time the fire department arrives.
Fire Sprinklers in Living Areas Only
NFPA 13D only requires sprinklers to be installed in living areas. The standard does not require sprinklers in smaller bathrooms or closets, pantries, garages or carports, attached open structures, attics, and other concealed non-living spaces. Some local building authorities may have requirements that exceed NFPA 13D.
Flexible Construction Choices
There are two common types of fire sprinkler layouts That are acceptable under NFPA 13D:
Stand-alone (or independent) uses dedicated pipes that only supply the fire sprinklers.
Multi-purpose combined (or network) use the pipes that supply the home's plumbing fixtures to also supply the fire sprinklers.
Watch a video about the two system types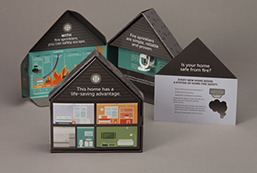 Order Your Free Sprinkler Display
BUILT FOR LIFE ® Fire Departments can receive a free sprinkler display to use when explaining how fire sprinklers work. Order yours here.
Not a BUILT FOR LIFE ® Fire Department? Become one for free.
Building New Developments With Home Fire Sprinklers Can Increase Fire Safety for the Entire Community
Resources that might have gone to fighting fires can be focused on Community Risk Reduction (CRR). They can help reduce municipal operating expenses through lowered water demands.
Incentives offered to developers to build with sprinklers can reduce construction costs and increase profitability.
Incentives Can Be Offered  in Jurisdictions Without Home Fire Sprinkler Code Requirements and Be Tailored to Every Situation
In jurisdictions without home fire sprinkler code requirements, AHJs can work with planners, builders and developers to provide cost-saving trade ups or incentives when the entire development is protected with home fire sprinklers.
Trade ups or incentives often allow better utilization of land and infrastructure cost savings. They can include:
Street-Width Reduction—Traffic lanes may be narrowed, substantially reducing the amount of pavement in every linear foot of street in the development.
Longer Dead-End Streets—Dead-end streets may be increased in length, allowing additional building lots to be accessed.
Tee Turnarounds Permitted—The permitted use of tee turnarounds in sprinklered developments can create at least one additional lot per cul-de-sac.
Increased Street Grades and Building Setbacks—Steeper street grades and building locations allowed further from where the homes access leaves the main road.
Additional Units Permitted—Development plans that allow homes to be closer together.
Expansion of Existing Water Supply May Not Be Needed—Required fire flows for fully sprinklered developments can be greatly reduced compared to non-sprinklered developments.
Increased Hydrant Spacing—Supply mains may be reduced and hydrant spacing can be increased.
Subdivision Single Access Point—A fully sprinklered subdivision allows for a single public access road. This decreases infrastructure costs and significantly increases the number of single family dwellings allowed.
Gated Communities—Gated communities can delay Fire Department Access. A fully sprinklered subdivision provides mitigation for this impact allowing developers to utilize this security option when desired.
Reduced Basement Windows—Fire sprinklers reduce rescue openings in every basement sleeping room.
Create Your Fire Safety Team
Fire safe communities start with planning. Work with local officials, planners and developers before plans are submitted. Communities can choose which incentives to offer that are specific to community needs. They are not one size fits all.
Continue to Step 3 to see how incentives benefit communities and developers.
Fire Sprinkler Incentives Offer Developers Cost Savings
Fire sprinkler incentives can provide opportunities to utilize land better by allowing development in areas that cannot otherwise be developed due to terrain or environmental constraints. Incentives can also reduce infrastructure and other construction costs by offering developers reduced street width, increased hydrant spacing and single access points. Incentives also increase profitability by permitting higher density, longer dead end streets and T turnarounds.
Incentives Help Build Fire Safe Communities
Today, fires can become deadly in less than two minutes. Open floor plans, lightweight construction material and the contents in homes made from synthetic materials make home fires fast and deadly. Most fatal home fires happen at night while people are sleeping. The very young, older adults and people with disabilities are at the greatest risk. When a home fire does occur only the sprinkler closest to the fire goes off controlling the fire. Fire sprinklers give the residents time to escape and firefighters time to arrive to fight a much smaller fire.
Sprinklers reduce smoke and toxic fumes meaning less chance of residents being overcome, reduced contamination for firefighters and less exposure to carcinogens
Home Fire Sprinklers Protect Residents and First Responders
Sprinklered developments support Community Risk Reduction (CRR) as home fire sprinklers provide superior protection for responders and residents, benefitting the entire community for decades. Unsprinklered new-home fire exposure puts responders at risk from fire, collapse, and health hazards. Each new home built without sprinklers makes the community less safe for all. By protecting new housing stock, existing resources can be directed at high-risk populations and existing unsprinklered structures.
Fire Sprinklers Support Community Risk Reduction Programs
Fire department resources are always scarce. By controlling the spread of fire, home fire sprinklers free up time that can be shifted to risk reduction programs such as smoke alarm distribution and fire safety education.
Building a home fire sprinkler incentive program takes planning. Starting with knowing what developments are being planned. Find out more in Step 5.
Be Involved Before Plans are Developed
Fire sprinkler incentives can change the approach a developer takes in developing a plan. Increased density, reduced infrastructure and other incentives need to be designed into the plan from the start, not added later. You need to be in contact with a developer as they are designing their project. That means you need to know what properties are being considered for development and who will be doing the development.
Work With Your City Planner
Get to know your city planner. In a small town this might be a part time employee or consultant. In a city there may be a large planning department. The planner will know what parcels are being developed, which are being planned for development and which will likely be developed in the future.
Meet with the planner, explain the concept of fire sprinkler incentives and request a list of actual or likely development projects.
Target New Developments
Review the development projects to see which may benefit the most from incentives. Parcels with challenging terrain or environmental issues are good candidates because the incentives may the only way to make developable. Developments that are seeking higher density are also good candidates. While all developments can benefit from incentives, larger developments can benefit the most and will be most receptive.
Besides planners and developers there are many other stakeholders you will want to involve. Find out who in Step 6.
Resources can provide more insight into potential development
There are resources that may provide additional background or housing forecast information. Also consider contacting local real estate and mortgage company contacts. Visit these websites for more in-depth information
Neighborhood Scout Real Estate data:  provides specific housing market details for every neighborhood in America, so you can effectively vet various locations and compare them against state and national averages.
NAHB provides building permit information here.
Besides planners and developers there are many other stakeholders you will want to involve. Find out who in Step 6.
Other Local Officials
In some communities the city planner or planning department handles all aspects of development for the town. In others the city manager, mayor or city council may be involved. Your city planner should be able to let you know who you should work with.
The local water purveyor or department is also critical to the success of the program. Many water purveyors do not understand the difference between commercial water sprinklers and NFPA 13D systems. As a result they sometimes impose fees and restrictions that make sprinklers financially impractical. By presenting the facts, particularly about water usage, you can avoid this potential problem.
Inform the Community
In many communities residents watch over new developments very closely. If they hear that you are allowing developers increased density or reduced water infrastructure they may oppose it. Reach out to community residents to explain how putting fire sprinklers in new developments makes everybody safer.
Every community is different. While some might welcome higher density others will oppose it. Find out what incentives work in your community in Step 7.
Preferences and Politics
Every community has their own attitude toward development. Some eagerly welcome it for the economic benefits. Others are wary of it changing the character of their town. Most are a mix of the two. Before offering any particular incentive you need to develop an understanding of local preferences and politics.
Talk With Planning
Your city planner will likely know very well what will be acceptable and what will not. Start by going through the list of possible incentives and discuss the implications of each. For example by allowing T turnarounds additional units could be built. How will this affect the town's density calculations. Does the town see additional units as desirable or not. How many extra units would be acceptable.
The answers may vary neighborhood by neighborhood and zoning district by zoning district. You need to know this before offering any incentives.
Talk With Developers Before the Planning Stage
Consider pre-application meetings with all stakeholders Talk with some developers about what incentives they find most appealing. Get a sense from the developers which incentives can have the biggest effect on their bottom line. For example reduced street width or not requiring a second access point can substantially reduce construction costs.
Once you have developed your incentive program it's time to sell it, which starts with preparing your presentation in Step 8.

Free Resources to Present to Stakeholders
Presentation materials including a PowerPoint template and video clips are available for your use in creating presentations. Additional materials are in development so check back often.
PowerPoint Presentation
This PowerPoint presentation can be customized for your audiences. Download PowerPoint presentation.
Video Clips
These video clips can be added to your PowerPoint presentation or used on their own.
Pre-Application Meetings
Before development plans are drawn, schedule pre-application meetings with all stakeholders. This is an opportunity to educate about incentives and Community Risk Reduction. Discuss specific incentive offers with city planners and developers. Write an agreement letter that details exactly what incentives are being offered in exchange for sprinklering the entire development. This will give the architects and engineers guidance as they develop their plans.
The Preliminary Plan
The preliminary plan for a development will show the general layout of streets, utilities and unit placement. Review the plan for adherence to the offered incentives as well as the usual review for fire code compliance. Make suggestions for any changes that need to be make to the plan to be in compliance.
The Final Plan
When the final plan is submitted, again review the plan for adherence to the offered incentives as well as the usual review for fire code compliance. As part of your approval letter include details as to what incentives are included and any special conditions that are required. For example, if the development is composed of second homes that might not be used in winter you might require the homes be heated all winter long and be connected to a monitoring service.
Every incentive program for every development will be unique. By working cooperatively with developers and planners everyone can win.
Home Fire Sprinkler Incentives Downloadable Tools
Community Risk Reduction Resources
Home Fire Sprinkler Incentives Case Studies
©2018 Home Fire Sprinkler Coalition