With Fire Sprinklers – Everyone Goes Home®
Firefighters Protect Their Homes with Fire Sprinklers
Home fire sprinklers offer the best protection for residents. They also offer the best protection for firefighters. By controlling and even extinguishing fires within seconds, the risks of flashover and structural weakening are avoided. The safest fire is the one that does not have to be fought. The NFFF calls for the use of sprinkler in their Firefighter Life Safety Initiatives 15 as a way to reduce or eliminate exposure to toxins produced by fires.
Home fire sprinklers mean less exposure for firefighters and fire investigators. Make them part of your community risk reduction plan.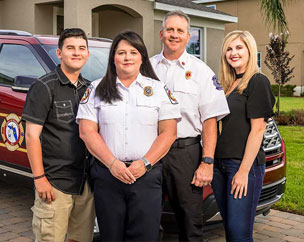 We decided to protect our home with fire sprinklers for many reasons. The first is life safety. We wanted more time to ensure our family could evacuate safely.
"We had to walk the walk and talk the talk," Diane says. "It's so much a part of our hearts and passion."
Dennis Compton, Chairman of the Board, National Fallen Firefighters Foundation,
discusses the role of home fire sprinklers in protecting the health and lives of firefighters.
Home fire sprinklers are an essential part of Community Risk Reduction including protecting firefighters.
The safest fires are the ones that never happened. Home fire sprinklers stop fires before they can grow.
The fewer contaminants firefighters are exposed to, the safer firefighters and their families are.
Please let us know if you are a firefighter
that has installed fire sprinklers in your home.
The National Fallen Firefighters Foundation calls for greater advocacy of installed home fire sprinklers in their Firefighter Life Safety Initiative 15 as a method to protect both the public and firefighters.
Funded through a grant from State Farm