Virtual Reality Home Fire and Sprinkler Burn Kit Videos
See For Yourself
There are two videos of the fires. One shows the unsprinklered room first, followed by the room with the sprinkler. The other video shows the sprinklererd room fire first.  Watch these videos in 360° on your computer, laptop, tablet or smart phone. This video can be downloaded to view with virtual reality headsets.
VR Home Fire Demonstration – Unsprinklered and Sprinklered
Watch on Youtube
Download the file (484 MB)
VR Home Fire Demonstration – Sprinklered and Unsprinklered (room with sprinkler first)
Watch on Youtube
Download the file (494 MB)
VR After the Fire Side X Side Comparison
Watch on Youtube
Download the file (115 MB)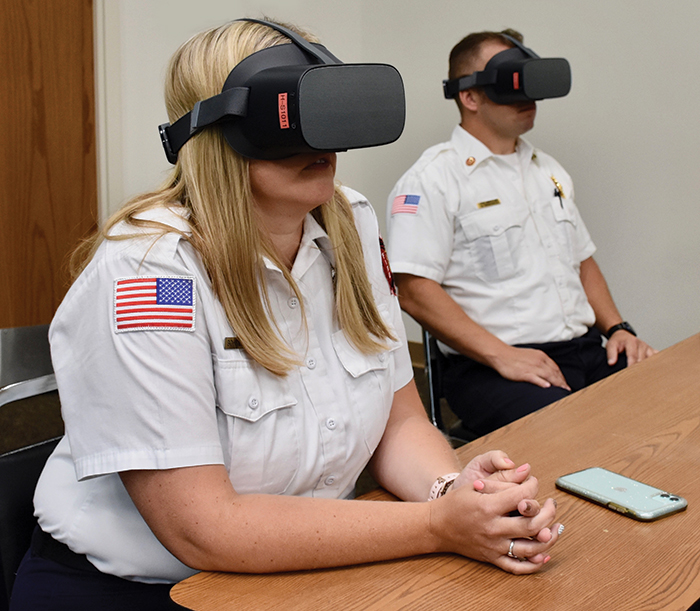 Funded by a grant from State Farm
No Construction No Setup or Rehab
Seeing is believing, and live side-by-sides have helped viewers understand flashover and the unparalleled value of home fire sprinklers. But live fire demonstrations are not always practical.
Thanks to a grant from State Farm, HFSC is taking this important educational strategy to the next level with live fire video in immersive virtual reality with user-controlled 360 degree views. Use this new technology to create a side-by-side experience that is personal, powerful and memorable.
HFSC Virtual Reality Immersive Presentation Kits Are Available
HFSC (through RiVR Link) offers presenters an immersive and engaging educational VR Kit using 360° video and images.
HFSC's RiVR Link is a self contained virtual reality (VR) kit that includes a rolling transport/storage case, 5-15 reusable virtual reality headsets, a presenter's laptop to sync with the audience headsets, and educational guidance. Presenters have the option to show the VR video to a group simultaneously or use the headsets individually. Alcohol pads are recommended to sanitize the headsets after each use.
This link includes a variety of different kits available for purchase, along with product descriptions.
If you have any questions, please contact HFSC, Marny McNitt @ [email protected].
Please fill out the form if you would like to download the videos.
Learn More